Highway Motors is an Independently Owned Dealership and Full Service Automotive Repair Facility in Chico.
Mechanical Repair • Diesel Pickup Truck Repair • Auto Body Repair • Used Car Sales • In-house Financing
Our team of fifteen automotive industry professionals offer a level of skill, experience, and professionalism that is unmatched in the Chico California area. We don't want to be just another car lot or run of the mill used car dealer. Every day Highway Motors is redefining what full service means and what customer service means.

We are the only automotive repair facility that offers everything all in one place.

With over 175 years of combined experience in the automotive industry, we understand our customers and guarantee that you will be completely satisfied with your experience at Highway Motors.

Highway Motors is the only used car dealer in Chico CA specializing in Buy Here Pay Here financing.

Highway Motors doesn't even care what your credit score is. That's right, we can get you a car loan in Chico Ca regardless of your credit score! Our used cars have been thoroughly inspected by our mechanics and every car is sold with a warranty. Buy here – pay here financing means you get to ride in style even if your credit is bad.
Used Cars, Financing, Auto Repair & More!

Click the blue text to see more info.
Count on Highway Motors for reliable and affordable used cars, trucks, vans, and SUV's
. We've had customers from Chico, Redding, Corning, Orland, Paradise, Yuba City, and even as far as Sacramento come purchase the excellent vehicles we carry in our inventory.
We make every effort to ensure that our customers get the highest quality vehicle available. Every vehicle we sell is inspected by our ASE certified mechanics and auto body technicians. We warranty every car we sell so you know we're not trying to sell you a vehicle that needs auto repairs.
The service department at Highway Motors is second to none. Whether you have a check engine light, a major mechanical problem, or even auto body repairs, we will keep your car rolling down the road. Highway Motors is the North State's one-stop shop for quality used vehicles and auto repairs of all kinds.
Click on these links for more information: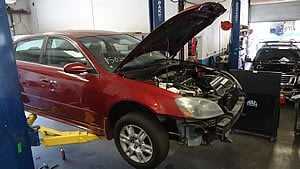 Are you looking for a reliable auto body repair shop in the Chico area?
Highway Motors is the automotive collision repair facility you can count on!
We've been in the collision repair business for 15 years, which is why you can trust your body damage will be properly repaired the first time. From small dents and scratches, to major automotive collision damage, Highway Motors is the auto body shop that can restore your vehicle to its original condition.
We repair cars, trucks, SUV's, and even motorcycles. We are the North State's auto body and paint shop with the most competitive rates and highest quality service. Stop by for a free estimate.
Click below to learn more about:
At Highway Motors, we offer easy in-house financing.
We understand that not everyone's credit is perfect, which is why we are willing to work with any type of customer, regardless of their credit score.
Unlike other used car dealerships, we offer the BUY HERE PAY HERE option to eliminate third party (i.e. the bank) involvement.
Buy Here Pay Here financing keeps the transaction directly between you, the buyer, and Highway Motors. We want to make our auto purchasing process as smooth and simple as possible for our customers. With our in-house financing we save our customers time and headache.
Are you looking for a trustworthy mechanic? At Highway Motors,
we offer GUARANTEED full-service auto repair for your car, truck, or Diesel engine
.
Whether your vehicle needs a two-wheel or four-wheel alignment, a new timing belt, a water pump, a brake job or major engine repair, Highway Motors has the resources to get your vehicle back on the road in a timely manner. With our staff of ASE-certified mechanics, Highway Motors will get your car, truck, or van fixed right the first time.
We guarantee all of our services, so you can feel confident in your auto repairs.
CALL 530-895-5555 To Schedule Your Appointment!