Bad Credit? No Credit? Our "Buy Here – Pay Here" Plan Can Get YOU in a Car Today!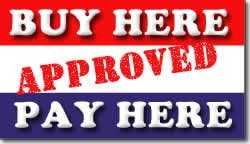 Buy Here Pay Here (BHPH) is a term most commonly used in the automobile industry, meaning that the company from which you purchase the vehicle is also the same institution that will carry the note on the loan. Therefore, no bank approval is necessary to purchase a vehicle.
Here at Highway Motors we make financing easy. We understand that many have experienced financial challenges over the past few years, and in order to help, we have developed a Buy Here Pay Here program that aims to assist those in need of reliable transportation.
Highway Motors promises to get those with credit challenges back out on the road again.
How do I get APPROVED?
Are you gainfully employed or can you provide explanation of your income?
Can you provide proof of your current address?
Can you make monthly payments?
Do you have money to put down on a vehicle?
Can you provide 10 personal/professional references?
Can you obtain full coverage insurance?
 If you said yes to all of these questions you are APPROVED here at Highway Motors.
At our dealership, your choice matters, as we want you to be satisfied with your pre-owned vehicle. Given our great selection, we will surely have a car that meets your needs and suits your tastes.
Each of our pre-owned vehicles comes with a 90 day 3,000 mile warranty. Please be advised that all of our vehicles will be equipped with GPS (Global Positioning Devices) throughout the term of your loan.  GPS devices are removed upon full payment of your loan.
The professionals at Highway Motors are committed to meeting the needs of our valued customers in the face of today's financial road blocks. We know you want to get driving again, and we want to help you.
Apply For Credit Now!
All of the vehicles in our inventory are eligible for the program.
To see our current inventory, Click Here

Please remember, we receive more vehicles every week, and do our best to keep our online inventory current, so check back soon if you don't see what you are looking for today.
Or give us a call at 530-895-5555.