Highway Motors is a Family Owned Dealership and Full Service Auto Repair Shop.
Mechanical Repair • Diesel Pickup Truck Repair • Auto Body Repair • Used Car Sales • In-house Financing
Come By And See Us!   2961 #71 Highway 32, Chico CA 95973
Open Weekdays 9-6, Saturday 10-5
Or Call Us At 530-895-5555
Highway Motors Aims To Be Your One Stop Repair Shop For All Your Automotive Needs. Our team of twenty automotive industry professionals offer a level of mechanical skill, technical experience, and automotive professionalism that is unmatched in the Chico, California area. The ASE Certified Mechanics, Collision Repair Technicians and Used Car Sales Staff here at Highway Motors are always putting our customers first.

You will discover our Quality used vehicles and auto repairs will keep you on the road for years to come. We're not just another used auto dealer with a shade tree mechanic. We only hire the best, most qualified technicians in Northern California.

You can Trust us to handle your Car, Truck, Mini Vans or SUV's service needs with honesty and integrity. With over 175 years of combined experience in the automotive industry, we understand our customers and guarantee that you will be completely satisfied with your experience at Highway Motors.

Highway Motors is your subprime auto finance specialist. We actually don't even care what your credit score is. That's right, you can buy a car with challenged credit. We are experts at getting our customers bad credit car loans!

We can provide auto financing in Chico, Forest Ranch, Live Oak, Yuba City, Red Bluff, Marysville, Artois, Berry Creek, Biggs, Colusa, Corning, Gridley, Hamilton City, Los Molinos, Magalia, Marysville, Maxwell, Orland, Oroville, Palermo, Paradise, Magalia and Redding California.

Buy Here – Pay Here financing means you get to ride in style even if your credit is bad.
Apply for your auto loan today!

We are the only automotive repair facility that offers everything all in one place.

Free Safety Inspections with every service.
Free Local Shuttle Service and Non-emergency local towing.
Timing Belts.
Brake Service and Repair.
Check Engine Lights.
Tune-Ups.
Smog Repairs Done Right!
We repair Duramax, Cummins and Power Stroke diesel trucks.
Auto body repair, Collision repair and refinishing
Free body shop estimates.
Expert color matching and dent repair.
Our auto body and paint shop can have you looking like you never had a car accident!
Used Car Sales Dealer
Highway Motors is Butte County's full service independent auto dealership.
60+ used automobiles in stock and all are priced under $13,000.
Free Carfax reports.
3 month 3,000 mile warranty included with every vehicle we sell.
Easy simple qualifications for every car loan.
Low down payments with flexible payment schedules.
Our finance company reports on our customer's credit monthly to Equifax and TransUnion.

With over 175 years of combined experience in the car business, we understand our customers and guarantee that you will be completely satisfied with your experience at Highway Motors.

Highway Motors is the only Used Car Sales Dealer in Chico CA specializing in Buy Here Pay Here financing.

Highway Motors doesn't even care what your credit score is. That's right, we can get you a car loan in Chico Ca regardless of your credit score! Our used cars have been thoroughly inspected by our mechanics and every car is sold with a warranty.
Used Car Sales, Financing, Auto Repair & More!

Click the blue text to see more info.
Highway Motors, understands that not everyone's credit is perfect, which is why we are willing to work with our customers regardless of their credit score.  Our in-house car financing helps families get the vehicle they need with a low down payment.  Many auto dealerships can't work with the unique situations of the average car buyer.  From subprime credit scores to unusual ways of making a living, we can help.  Come in, explain your unique situation and let us show you what we can do.
Highway Motors stocks a wide variety of pre-owned Cars, pre-owned SUVs, pre-owned Minivans, and even a few pre-owned Trucks.  We don't stock many pre-owned Pickups but we often have a few. So if you're in the market for a used automobile call Highway Motors today!
Every car we sell goes through a rigorous 100 point automobile inspection conducted by an ASE Certified car mechanic.  These guys know a lot more than just how to change the spark plugs. Our expert auto mechanic makes a list of any car problems he finds and then they are all repaired.  If we can't fix the car we won't sell it.
Every vehicle we sell comes with a free Carfax report and a 3 month 3,000 mile warranty at no extra charge.  If we can't warranty it we won't sell it!
Click on these links for more information: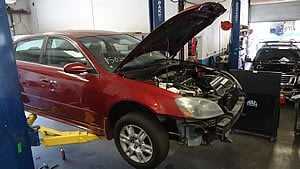 Are you looking for a reliable Auto Body Repair shop in the Chico area?
Highway Motors is the Auto Body Repair, Collision Repair and Refinishing facility you can count on!
We've been in the collision repair business for 15 years, which is why you can trust your body damage will be properly repaired the first time. From small dents and scratches, to major automotive collision damage, Highway Motors is the auto body shop that can restore your vehicle to its original condition. Our auto body and paint shop can have your vehicle looking like it never had a car accident.
We repair cars, trucks, SUV's, and even motorcycles. We are the North State's Auto Body Repair and Paint Shop with the most competitive rates and highest quality service.
Click below to learn more about:
Highway Motors is the North State's full service independent used auto dealership.  We specialize in helping people with major credit difficulties or financial problems.  Deep subprime credit problems are not a problem for us.  We can often help customers who are dealing with a prior bankruptcy or prior bankruptcies, a prior repossession, or prior repossessions, tax liens and judgments.
Creative financing and creative finance options are what we do every day.  We can work with almost any bad credit situation you have. Our finance company Interstate Credit Solutions will report on your credit every month to help you re-establish your credit. That's right, making that payment will help you build your credit. We report to Equifax and TransUnion monthly to keep that credit building.
We are the subprime credit dealership of choice for Butte County, Tehama County, Plumas County, Lassen County, Glenn County, Sutter County, Yuba County, Shasta County, Yolo County, Nevada County, and Placer County.
Click on these links for more information:
Are you looking for a trustworthy auto mechanic?
Highway Motors only hires the very best car mechanics and truck mechanics in Northern California. We employ ASE Master Certified technicians for your family's safety. This is the reason the service department at Highway Motors is second to none.
Regardless if your car has a check engine light, a leaky water pump, needs a brake job, a head gasket, tune up, or you need help with any other mechanical problem; Highway Motors is here for you. Major Pickup repairs, SUV repairs, Minivan repairs and Car repairs of all kinds are no problem for us!
If your car is broke down and you need your car fixed we might be able to tow it in for free. Call and ask us if we can help with a free tow.          530-895-5555.
We can often tow from the 95926, 95927, 95928, 95929, 95973, 95976, 95951, 95967, 95969, 95965, 95966, 95991, 95992, 95993, and the 95901 zip codes. Highway Motors is the North State's one-stop shop for the quality car repairs your family needs.
We guarantee everything we sell, so have confidence you've found the best repair shop!
CALL 530-895-5555 To Schedule Your Appointment!

[/fullwidth