Our In-House
Buy Here

–

Pay Here
Auto Financing!

How can you get "Buy Here Pay Here" used car financing at Highway Motors in Chico? By taking advantage of our exclusive Buy Here Pay Here Program, therefore, the answer is much easier than you may think. Each day we see our customers who have had difficulty with credit issues like prior bankruptcy, repossession and no or low credit score drive away happy.
You can start with pre-qualification. If you are not sure about the process, it is easy to pre-qualify. Just fill out our online credit application and we will contact you within one business day.
All you need to qualify is:
Proof of Income  (Current Pay Stub, Award Letter, Bank Statement)
Proof of Residence (Utility, Cable or Phone Bill)
Valid Government Issued Identification Card Or Valid Driver's License (Must be Government issued, No Substitutes)
7-10 Personal References ( Name, Address, Phone #)
Full Coverage Insurance ($500 Deductible Max on Comp/Collision)
Down Payment. A typical down payment on select vehicles would be 10% of the purchase price. For example if your car is $9,995 your down payment will be $1,000
We're certainly not the right choice for everyone. However, if you have been turned down by mainstream dealerships we just might be the best alternative for you. Keep in mind that the subprime auto finance industry charges between 19 % APR and 29 % APR. We're in the middle at 24.95 % APR.
What Happens After I apply online For My Buy Here Pay Here Financing!
Once you have applied for your bad credit used car financing, you'll get a phone call from our staff. We will help you get everything in order to secure your used vehicle financing. Thanks to our Buy Here Pay Here Program, most people are guaranteed approval.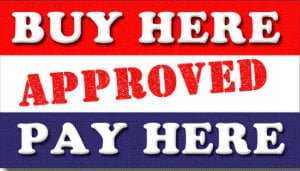 If you prefer the personal touch, Just come to our pre-owned car lot and talk to our trained professional staff. We can show you our cars and talk to you about the Buy Here Pay Here finance program. This is how many of our customers get started. No worries! We will guide you through every step of the loan process.
Regardless of how you choose to start, you'll find that our "Buy Here Pay Here" used car financing program allows for life's ups and downs.
We understand everyone needs to find the car that they can rely on and suits their lifestyle. You'll find a large inventory of choices that suits your used vehicle requirements whether you have a big family or looking for a commuter car or maybe getting your first car. If you want a bad credit or no credit auto loan, don't wait. We have a unique exclusive relationship with our loan company Interstate Credit Solutions to best serve you and your family.
Hence, You too can drive away in your "new to you" Car, Truck, SUV or Minivan and become one of many Highway Motors satisfied customers!
If you have any questions, give us call at 530-895-5555.
Recently Added
Browse through all of our latest vehicles that have been recently added!