Are You Looking for a Nearby Auto Repair shop in Butte County? Highway Motors Services Cars and Trucks with Guaranteed Repairs!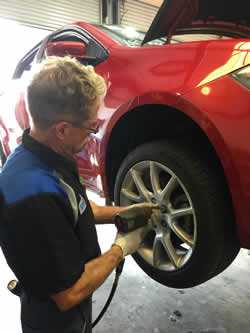 We know you have many choices when it comes to where you take your vehicle for maintenance and repair. If you are looking for the best auto repair shop nearby in Butte county, you can feel comfortable entrusting your auto repair and car maintenance with us because we guarantee all of our repairs.
Routine & Preventive Vehicle Maintenance
Regularly scheduled vehicle maintenance is your first line of defense against expensive repairs. Oil changes, thermostats, water pumps, and timing belts play an important role in maintaining the longevity of your vehicle. Adhering to the manufacturer's suggested auto maintenance schedule will help you avoid costly truck or car repairs in the future.
There is no need to worry about maintaining the warranty on your new car. Our knowledgeable staff has the skills to perform all the required car maintenance and  auto repairs on your new vehicle. Always consult your vehicle's user manual for a list of scheduled maintenance. You do not need to go to the dealer and pay inflated prices to get auto service in Butte county that will maintain your car's warranty.
Many people may find it difficult to describe the problem to their mechanic. Here is a list of descriptions that will help your mechanic diagnose your car problem. What Can I tell My Mechanic?
We Warranty Our Parts And Service
When you get your car repaired at Highway Motors in Chico you can be confident your call will be fixed right the first time. And we back that promise with a 12 month, 12,000 mile warranty on all of our repair work.
We have friendly service and a down home feel our customers enjoy!
Here are a few comments from our customers:
"I will only go to Ben and his crew for my Automotive Repairs…period!"   -Rick
"Mike the Service Writer was friendly and I was able to make an 
informed decision with the information he gave me."
   -Brent
It was Thanksgiving Weekend and I had serious trouble with my car. Being from out of town,

"I was frantic!" 
 Luckily Highway Motors was opened and got me right in, diagnosed the problem, did the repair and got my repair done within a matter of hours.
Mario was extremely helpful and explained everything well.Glad I found their shop!" – Lynda
"Long story short…. Ben & Highway Motors Staff have been excellent from the day we purchased (March 16th) to date!!!     Without   details we have been faced some obstacles HOWEVER Ben & his Staff have made & continue to make everything as smooth as possible with great communication & MOST OF ALL….. HONORED EVERY SINGLE WORD HE/THEY HAVE EVER SPOKEN in regards to anything. They've been honest & more than cooperative in resolving any obstacles. So….. if you're shopping…. Highway Motors Chico is your spot!!!! Excellent from the Sales Lot to the Service Shop!!! THANK YOU ALL FOR ALL YOU'VE DONE!!!! Robert & Christina 😊"
At the end of the day, we all want a Butte County Automotive Repair Shop we can trust to keep our vehicles running smoothly at a reasonable price. Come to Highway Motors where "people" come first!
Why Not Let Highway Motors Keep You On The Road.
Call 530-895-5555 to speak to one of our Experienced Auto Repair Service Writers or Email Us.
Our shop is open Monday to Friday from 9am to 6pm.