About Highway Motors Chico Used Car Sales, Repairs and Collision Repair
[one_fourth last="no" animation_type="none" animation_direction="down" animation_speed=""]
[/one_fourth]
[one_half last="no" animation_type="none" animation_direction="down" animation_speed=""]Welcome. I am Ben Libby, owner and operator of Highway Motors in Chico, California. I started in the automotive business when I was 15 years old working on my own cars in my parent's driveway.
Since then, I have used the knowledge I've gained through hard-earned experience to create a business centered on what I know to be unmatched customer service.
I opened the doors to Highway Motors in 1998, starting with only a few second hand cars on a tiny lot. We had a small, one-man auto body and paint shop. Ever since, the business has grown in size and and staff, but my goal is to continue to focus on the individual needs of each customer. I never want you to feel like just another job or sale.
I am proud to be a Northern California native. I currently live in Chico, California with my wife Holly and our dogs, Tito and Mooshie, and a couple crazy cats. [/one_half]
[one_fourth last="yes" animation_type="none" animation_direction="down" animation_speed=""]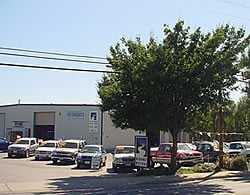 [/one_fourth]